The cars are finding me now! The latest in the long line of projects is a 1967 Camaro RS/SS Convertible built to look like a Pace Car Replica. Simply based on the cowl tag this car is an Ermine White RS/SS 350 4-spd convertible with deluxe blue interior and a (rare) blue convertible top. By itself it is a pretty desirable car....restored.


---
---
It even has race history! It was raced under the name "Payroll Deduction" in the 70's and early 80's in the NHRA super street and/or super gas series at Edgewater, Kil-kare, and Tri-State raceways all located in Ohio. It was the 1978 IHRA Formula Stock Record holder for the Ohio/tri-states area. It was reported that it was raced with a 468 Big Block Chevy with a turbo 400, 5.13 gears and 32" tall tires. It was also reported that it ran into the 9's in the 1/4 mile. Here it is in 1978:


---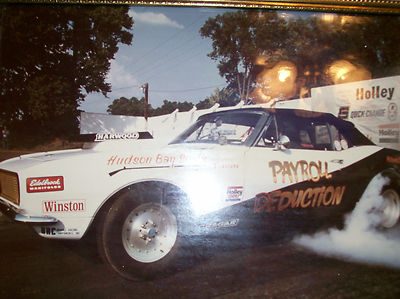 ---
So what is a 1967 Camaro Pace Car Replica ? There is some contention about this topic since the factory didn't really make pace car replicas available to the public in 1967 like they did in 1969. The actual pace cars (2), pace car replicas and festival (parade) pace car replicas related to the race (81 cars) all have special paint code of 0-1 (custom white paint, white top) and a trim code of "4P-", where the "-" indicated a special blue nose stripe and painted blue pinstripes. Though a few Blue-Toppers were actually produced. All cars were reportedly produced from 03C to 05A (3rd week of March - 1st week of May).

GM zone managers also recieved Pace Car Replicas, though it was understood that they were of the "0-1" or "0-4" color code and mostly were 396's. The Canadian Zone managers also got in the act and ordered their own Pace Car Replicas. 21 in all, which were produced the 3rd week of June. My car was produced the 3rd week of June, right in the middle of the Canadian batch of replicas.

It is believed that dealers created their own Pace Car Replicas buy ordering Ermine White Convertibles with deluxe blue interiors. They would then order the pace car door decals and install them.

For the latest and most accurate information, please go to CamaroPaceCars.Com.

---
Here is one assigned to track official, Dave Welday (color code "0-4"). Not only is the top blue, but the nose stripe is black and it has rally hubcaps. My new project should have come from the factory looking just like this car, except for the door decal and rear mounted antenna.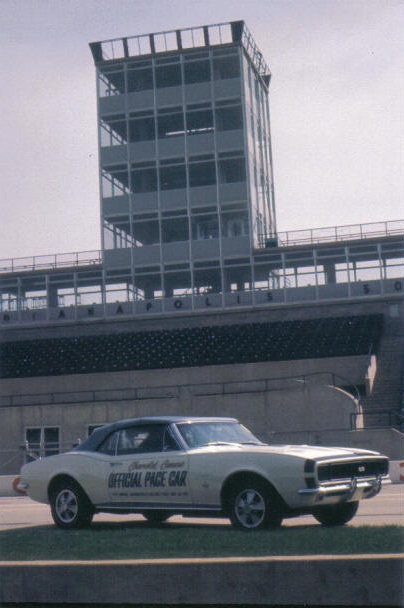 ---